Europe with Getaway Campers
Getaway Campers are the specialists in camper van visits to Europe, consistently providing the best quality campers for a great price. Our staff love travelling, and really enjoy helping others enjoy their own great European travel adventure. Contact us for a quote today!
Our Story
Having travelled extensively all over the world from Alaska to Uzbekistan, and quite a few places in between, one of the things we came to value most was being able to stick to our own schedule. In other words, doing the things we wanted to, when we wanted and where we wanted. We found that by far the best way to do this was having our own wheels...and it's also more fun!
The flexibility of having your own home on wheels means you usually get to meet the locals, especially in small villages or isolated places in the back blocks of nowhere. These times were often the things we most remembered. Another thing we really enjoyed was being able to just pull up and stay by a secluded bay, and being able to sleep whenever it suited.
Our Aim
We're a friendly bunch, so our main aim is to ensure you have a good time. If you need some advice on where to go, we're always more than happy to help out with your UK and European camper hire. Travelling should be fun, and that's what we're all about. We look forward to helping you to Getaway!
Why Getaway Campers?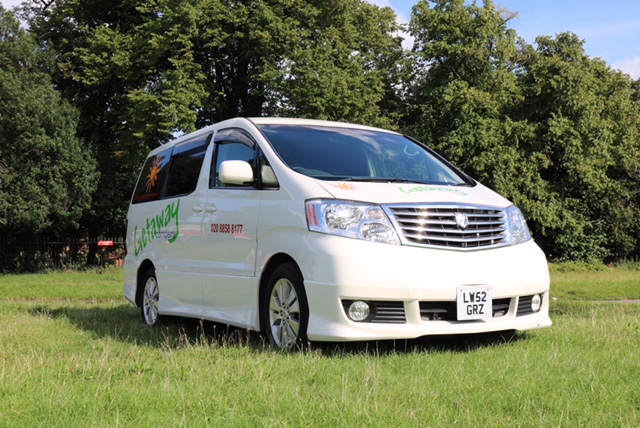 Many of our clients are looking for an independent way to travel, whether in the Cotswolds, the Highlands of Scotland, the vineyards of Bordeaux or the beaches of Spain. In most cases vehicle mobility is a top priority for our clients. The ease to travel, stay off the beaten track and also be able to stop and meet fellow travellers from all over the world are just a few of the reasons we hear regularly.
Our camper vans are very easy to drive, really reliable and come with numerous features that cost much more on equivalent larger (or European) models. They drive and travel extremely well, being both not too big or too small and therefore ideal to fit in a standard car park space. Also ideal for navigating narrow lanes or parking in the city. With the ability to seat up to four, they are also an economical way to get away with the family or friends. The featured picture above is a Toyota Alphard.